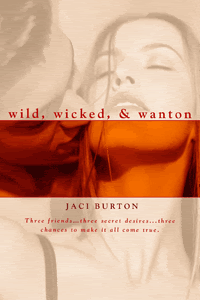 Warning:

Reading this book may make steam come out your ears.



First, the backcover blurb:

Three friends...three secret desires...three chances to make it all come true.

They're inseparable best friends who delight in sharing their wildest secrets and dares. But their latest bet is the boldest one of all: each must sleep with whomever the other two have chosen for her. And come back with every juicy detail...

WILD
Abby married the town bad boy. And he lived up to his reputation, bedding any woman who let her guard down. She swore off men for good, but never counted on a pair of sexy veterinarians who are fulfilling a desire of their own.

WICKED
Blair is the town heartbreaker. Afraid to commit, she's broken off three engagements. Yet there's one man she never had the courage to bed. The one man she really loved. But now, the decision is out her hands.

WANTON


Callie is the sensible one....but beneath it all she's a true romantic, with the broken heart to prove it. Now her long-dormant fantasies may be getting a workout. A new man enters her life and everything about him is irresistible.
Wild, Wicked & Wanton

is seriously hot. I swear I singed my fingertips during reading. It's three novellas but they're connected so for me, it read like book - I also felt each couple got their chance in the spotlight, especially since you get to see them outside their novella. But the heat aside, what really made this book work for me were the relationships.

First, the relationship between the three women – Abby, Callie & Blair. They just seemed like real friends, and I liked how the men fit into and respected that friendship.

And second, the relationship between each heroine and her hero. The love scenes were utterly hot, but there was tenderness there, too. I truly believed these couples would make it –

Wild, Wicked & Wanton

really fulfilled both parts of its promise of being an erotic romance. This one's going in the keeper pile.

You can check out an excerpt at Jaci's website.

What've you all been reading? Any recent keepers?